Discover optimised techniques for lesion localisation and sentinel node biopsy with Sentimag®-Magseed®/ Magtrace®
Welcome to the Sysmex Life Science Site for the BIGOSA Virtual Congress 2021
Sysmex Life Science is committed to making the virtual congress experience as informative and valuable as possible. Here you will get access to a wide range of scientific and educational content.
This product demonstration will present advanced techniques for magnetic tracer application in routine use. Watch the video with surgeon Prof Carol Benn and learn about the placement and surgery with the Sentimag® system.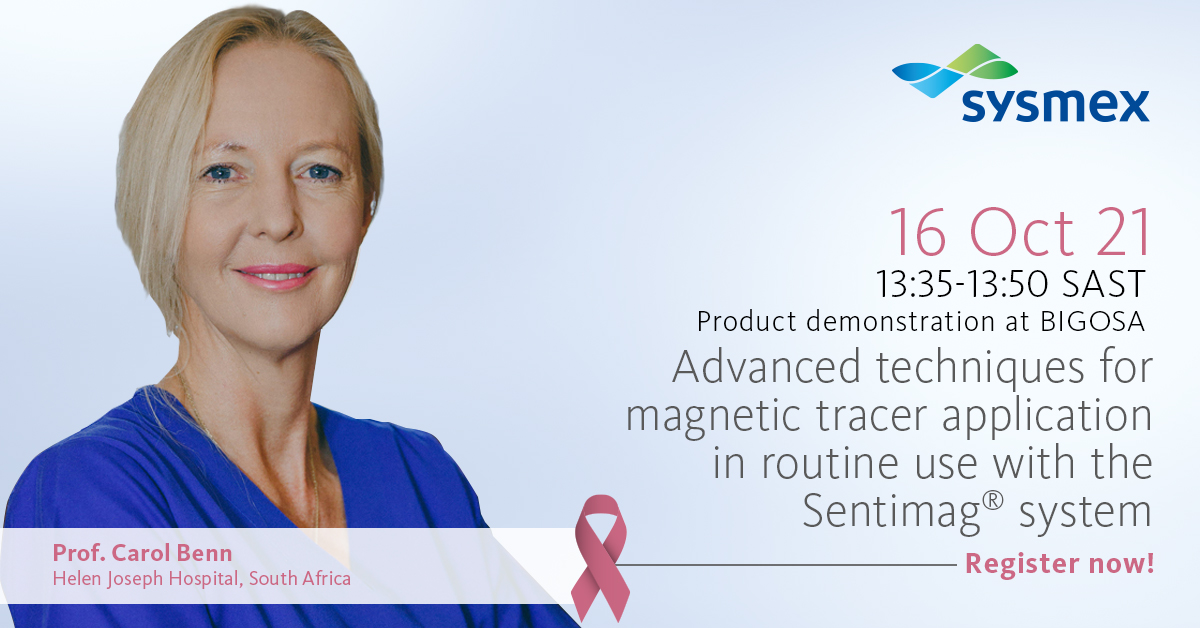 Magseed® placement and surgery
Transformative changes in the field of breast cancer treatment have led to improved patient outcomes and shifts in surgical management. The Magseed® magnetic marker has been specifically designed to overcome the limitations associated with current techniques for lesion and lymph node localisation. This tiny seed has already been used throughout the world to help thousands of women have better outcomes for their breast surgery. It promotes seamless operation room scheduling, accurate localisation and high patient satisfaction.
Watch the Video with Radiologist Dr Marie-Rose El Bejjani and breast surgeon Dr Severine Alran from Hospital Saint-Joseph in Paris and learn more about the placement and surgery with Sentimag®-Magseed®.
Magnetic lymph node localisation with Magtrace®
Many treatments for early-stage breast cancer involve sentinel lymph node biopsy (SLNB). This method, which identifies the lymph nodes with the highest potential for harbouring metastases, helps to determine the nodal stage of the cancer and make informed decisions for surgery and subsequent treatment.
Standard SLNB uses radioisotopes for sentinel node localisation. We offer an effective clinical solution that uses safe magnetic fields instead. This eliminates concerns related to issues of safety, workflow and availability associated with ionising radiation. Best practice SLNB is now possible everywhere, with no time restrictions.
Our system consists of the Sentimag® probe and the Magtrace® magnetic tracer. First, the tracer is injected into the interstitial tissue to provide a traceable signal. Next, using the Sentimag® probe, the sentinel lymph nodes are located to determine how far the cancer has spread.
Manufacturer: Endomag®, Sentimag®, Magseed® and Sienna+® are registered European Union trademarks of Endomagnetics Ltd · www.endomag.com
Magtrace® is a registered trademark of Endomagnetics Ltd in the United Kingdom · www.endomag.com